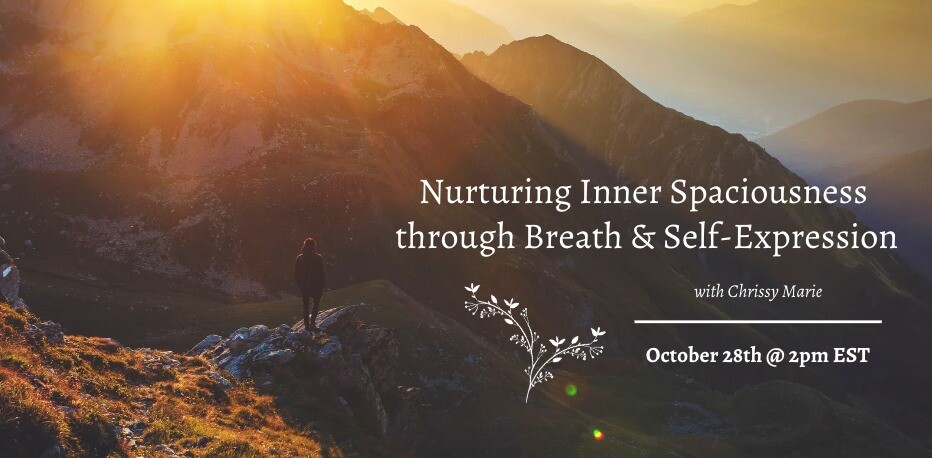 Oct 28, 2022 02:00 PM

–

Oct 28, 2022 03:30 PM

Eastern time
Our breath is one of our most POWERFUL and under-used healing tools. When we use it intentionally in a breathwork session, we can:
∞ Alter our brain waves to trigger mystical experiences
∞ Release Anxiety
∞ Bring the body to an alkaline healing state
∞ Boost our Immune systems
∞ Pave the way for mental and Intuitive Clarity and Spaciousness
This workshop will offer you gentle breath and body exercises designed to soothe a frazzled nervous system, relax your nervous system, and experience a sense of inner spaciousness. Past participants have said that they feel a deep sense of Peace, Power, Connection, Aliveness and Intuitive Clarity after breathwork class.
Chrissy will also be sharing a powerful way to create space around triggers using your voice, and carefully crafted language.
If you come, please block out at least 1.5 hours for the event.
To prepare, wear comfortable clothing, bring water, and don't eat anything heavy at least an hour beforehand.
Some people also like to have writing materials on hand to record insights.
Headphones significantly improve the audio.
You're welcome to email Chrissy with any questions at:
theartofaliveness@gmail.com